Everyone knows to leave Santa Claus some milk and cookies on Christmas Eve. It's a snack to help the jolly elf on his worldwide journey.
Leaving cookies for Santa has been a common custom in the United States for nearly 100 years, rooted in Depression-era lessons from parents that children should share with those in need and show gratitude for gifts received in a time of privation, according to History.com.
In more plentiful times, it's an inducement for Santa to leave the good stuff that's packed away on his sleigh.
History.com traces similar traditions to Norse celebrations at Yuletide, when children would leave food for the mythical horse, Sleipner, that carried a deity bearing gifts.
Variations on the milk-and-cookies theme are practiced around Europe. On the British mainland it's fortified wine and mincemeat pies. Wine and hay are the snacks for Père Noel and his donkey named Mistletoe. Children in Ireland know what pleases Santa the most: a pint of Guinness Stout ale.
But if you're really trying to impress the Big Man in Red, check out the Christmas-themed cookies at these Alabama bakeries:
The dream started in a kitchen before Jan Jacks Potter opened a shop in the Cahaba Heights community of Vestavia Hills in 2009. Success there led to a larger bakery in Homewood, and a café in Hoover. Holiday cookies include fancily decorated gingerbread men, shortbreads, linzer cookies, and iced sugar cookies. Shortbreads shaped and decorated as stockings may be just the thanks Santa needs for filling your own stockings.
(Dreamcakes Bakery/Facebook)
Diana McCart's reindeer sugar cookies are absolutely adorable, and her gingerbread cookies include both men and women. But St. Nick would never turn down one of D's Christmas cocoa bombs, decorated with sprinkles and ribbons of red, green, or multi-colored icing.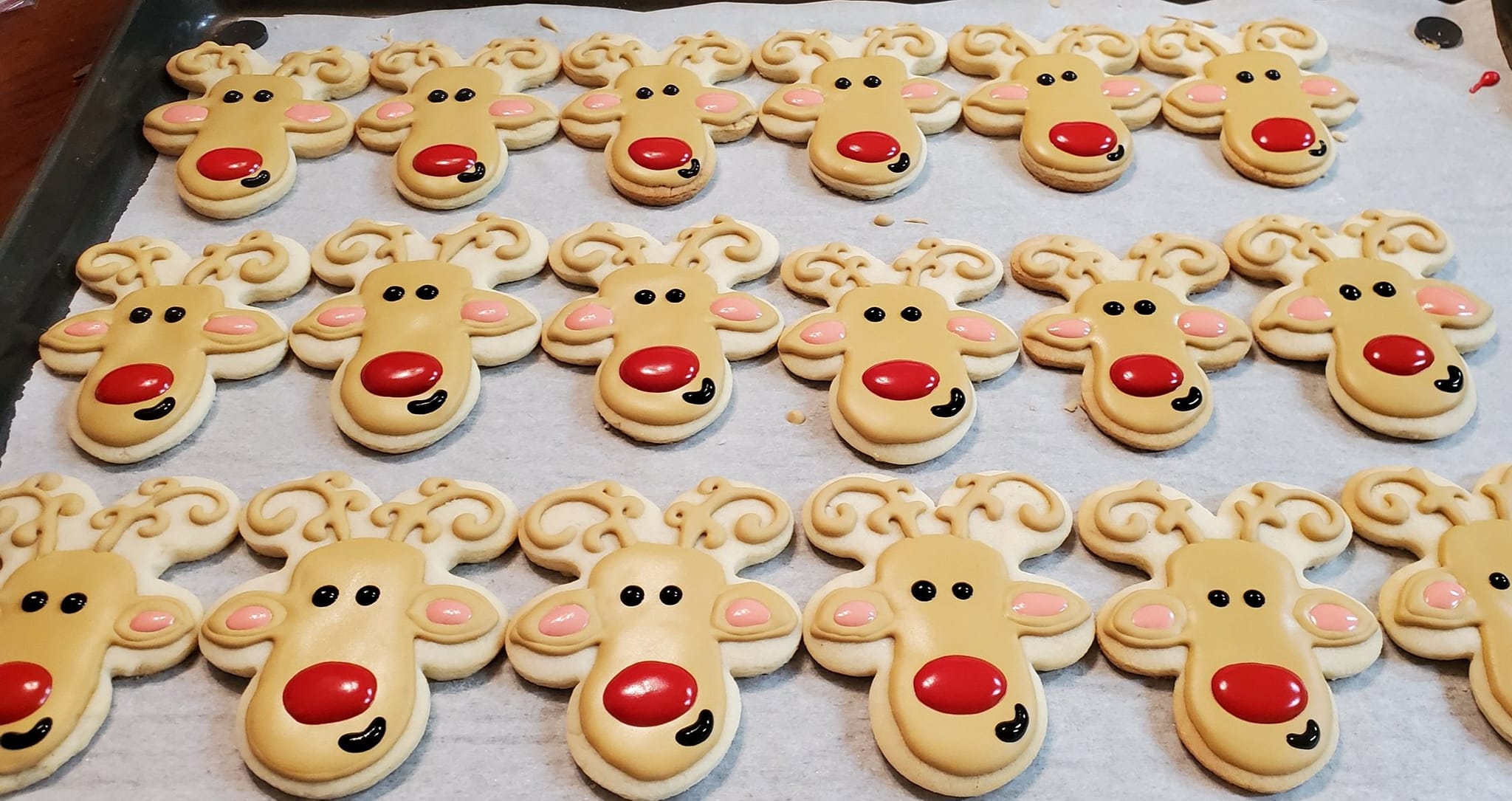 Lauren Kapeluck and Jennifer Conrad are the L and J behind Ellen Jay. After bonding as mates, marathoners and mothers, the friends opened their shop in 2014. Sugar cookies are one of their specialties, and Christmas sugar-cookie combos are named Jolly, Snowflake and Merry. Or pick up a decorating kit with snowflake, stocking, tree, and gingerbread shapes, plus icing mix, piping bags and four types of sprinkles.
The bakery at the lake produces intricate cookies like a textured tree, gingerbreads, and sugar cookies shaped like ornaments that can be personalized. Or show Santa you have a sense of humor with Jonica's Melting Snowman cookies, which depict a bit of the snowman's head, scarf, and "twig" arms on a pool of melted snow.
(Jonica's Bakery/Facebook)
Open since 1944, Yuletide sweets abound at Liger's, including thumbprints with Christmas colors and sprinkles, and cute gingerbread. Sugar-sprinkled cookies are decorated as slightly abstract snowmen, reindeer, stockings, and trees. Iced sugar cookies are shaped like Santa's head, Santa's coat, trees, and reindeer. Liger's also makes petit fours with Christmas themes.
Maddie Cimino was a teenaged blogger when she started selling cookies via Instagram in 2020. The self-styled "Cookie Girl" has since opened a brick-and-mortar store in downtown Huntsville, where she "spread(s) joy one cookie at a time." Don't dilly-dally stocking up for Santa. Maddie's is open this week through Thursday, but selection by December 23 may be limited. Christmas-themed trays include sugar-sprinkled cookies and chocolate treats stuffed with holiday Oreos and peppermint.
(Maddie's Cookie Company/Facebook)
Open since 1939, Savage's has been the go-to bakery for decades in the Birmingham area. It makes sugar cookies shaped like bells and stars, and sand tarts. Its beloved petit fours are decorated with wreaths, candles and trees. Party trays are available, including Santa's Cookie Tray assortment that includes gingerbread men.
(Savage's Bakery/Facebook)
Share This Story, Choose Your Platform!